WATCH IT, WEINSTEIN: WOMEN HACK HARASSMENT AND SEXISM IN TECH
Women and non-binary hackers tackle harassment, equal pay, hygiene and homelessness
San Jose, CA: Hackers turned activism into action this past weekend at a new hackathon for women and non-binary folks. With only a weekend to build their projects, the teams in the inaugural Hack The Patriarchy hackathon went after some of the biggest problems facing women and marginalized communities – sexual harassment and abuse, workplace equality and HR, finding positive news in an aggressive media landscape, women's health and hygiene, and helping the homeless.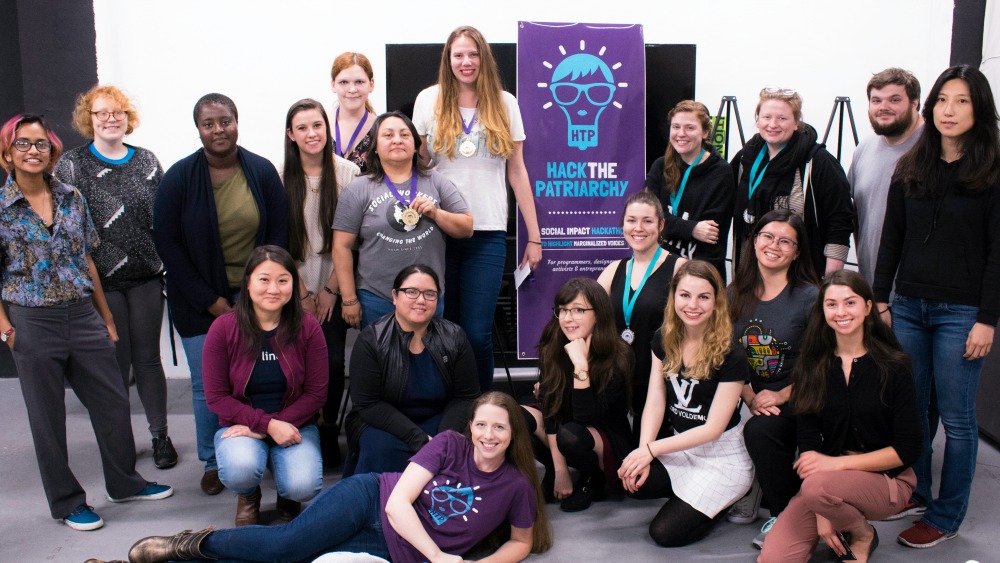 The free hackathon received more than 110 applications and accepted 82 registrations. 58 people attended over the course of the weekend. Five teams with 23 team members made it through to the final presentations. The Grand Prize was won by Tusker App, which uses AI to identify and flag verbal abuse, discrimination, or harassment. The People's Choice Prize was won by Help. ("Help Period"), a peer-to-peer app that helps women — including homeless women — who need tampons or pads in an emergency.
Julie Ramirez from the County of Santa Clara Office of Women's Policy says, "It's exciting to see so many women working on apps that have a direct positive impact on the lives of other women in need. What drives their work is the overwhelming desire to help others. Hack The Patriarchy creates a safe space for women and gender non-conforming individuals to bring their tech skills together to improve our community. The Office of Women's Policy is proud to partner on this endeavor."
Diana Solatan from Women Who Code worked with teams as a mentor during the hackathon. She says that there is less of a corporate feel to this event than most hackathons. "Everyone was focused on solving a real social issue. At other hackathons, you can see that people have their own agendas, whether it be to win a prize, to get a job, to find a co-founder, but here, everyone's agenda was to make the world a more inclusive place."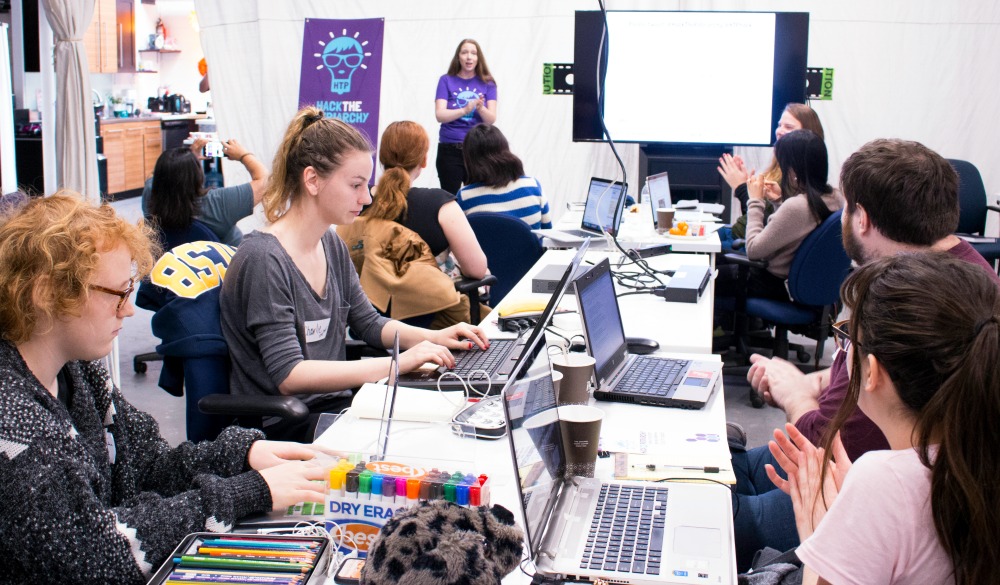 Eva Helén, CEO of Epiquette and one of the competition judges, also noticed the different vibe. "The atmosphere and energy in the room was focused and full of anticipation. Kali had encouraged the ideas to flow and the teams were working hard on projects that could solve 'real world' challenges. I was impressed by their creativity and their ambition to make a difference."
According to Kali Williams, founder of the event, "We wanted to provide a safe and supportive environment where the attendees could work on problems that matter to them without the negative distractions you typically get as a woman at a hackathon. The response we've had from the hackers here is a resounding 'yes, please.'The inspiring products built this weekend demonstrate that women and non-binary hackers are more empowered than ever to create amazing things when they have a room of their own."
Williams felt that a women-focused event was needed after competing in hackathons that did not feel friendly to women. "It's not enough to get rid of the Nip Alerts, the beer pong, and the coder odor. Hackathons are still heavily male-centric, with unhealthy food and uncomfortable environments, and they're stressful and aggressively competitive. We plan to do mixed gender events with allies welcome in future as well."
The hackathon was held at the ActionSpot co-working space and incubator in San Jose. Teams competed for a prize pool worth more than $4000, including a $500 cash grand prize, Amazon Echo Dots and gift cards, a membership to ActionSpot, and the chance to pitch to investors and join the incubator program.
"We all talk about diversity," says ActionSpot's co-founder and CEO, Olga Buchonina, "but this hackathon acts on it. It's focused on doing social good and impacting lives, and moving from words to actions. I love it when we use our professional skills and create true impact."
The hackathon attracted strong support for a first-time community event. In addition to ActionSpot, the event was also supported by sponsors Yelp, Slack, Balsamiq, and NumFocus, with swag donated by Linode and Built.io. "I didn't think we'd be able to attract commercial support as a first-time women-focused tech event," says Williams, "but it is a testament to the commitment of these companies to diversity and supporting women and non-gender conforming folks that they got on board when this was just an idea."  
Workshops and panels were held in the weeks leading up to the event, rather than during the hackathon itself, to reduce stress, give participants more time to focus during the hack, and provide an opportunity to meet potential teammates:
Data Science workshop held in partnership with NumFocus at the University of San Francisco Data Institute

API Workshop run by Bear Douglas, the Developer Advocacy Lead at Slack, who was previously at Twitter and Facebook

Founder Mixer Panel: featuring Guadalupe Rodriguez from Planned Parenthood; Carla Collins from Santa Clara County Office of Women's Policy; Kelly Jenkins-Pultz from the San Francisco Women's Bureau; Ruth Silver Taube from the Santa Clara University School of Law; and Aly Sheppard from Caminar, a mental health non-profit
The winning projects are:
Tusker App: an App that listens to conversations for "the elephant in the room" and uses AI to identify and flag verbal abuse, discrimination, or harassment, using sentiment analysis and natural language processing (Grand Prize Winner).

Help. ("Help Period"): a peer-to-peer app that provides a platform for empowering women to help other women in their times (of the month) of need. The App is designed to help women who need tampons or pads in an emergency, and to facilitate donations of hygiene and sanitary products to homeless women's shelters (People's Choice Award).

Choose Your Win: an interactive game to navigate issues that women face in the workplace and when job seeking, such as negotiating equal pay. Users user can play the game and navigate the recruitment and hiring process through their character (Most Original).

Athena: Your confidant in the workplace – an AI chatbot that collects experiences and provides training for appropriate behavior and reactions. It helps employees dealing with harassment and other issues to find information and coaching, and to navigate HR workplace processes (Best Chat Bot).

The Daily Reach: a news aggregator that features the accomplishments of women, trans, and non-binary people. In a world of negative news, this aggregator seeks out positive stories for marginalized communities (Most Positive Impact).
About Us: Hack the Patriarchy is a social impact hackathon where women and non-binary folks hack together in a safe and supportive environment to build projects that improve life for women and marginalized communities. Participants come from diverse backgrounds, ranging from first-timers to seasoned hackers, and form teams that include developers, designers, activists, marketers, and entrepreneurs. Teams have a weekend to build an initial product or prototype, and are supported with mentoring, resources, pre-event workshops, and training. Hack The Patriarchy is a mission-driven, not-for-profit community event founded to empower women and allies to take action and fix problems by hacking on solutions together.
Thank you to all of our sponsors: ActionSpot, Yelp, Slack, Balasamiq and NumFocus